What You Can Buy With Your Georgia Peach Card
Below is a list of eligible food stamp items that you can purchase using your Georgia EBT card. These food items can be purchased at stores that accept EBT food stamps. The aim of the Georgia SNAP benefits program is to provide nutritious foods to eligible low income individuals and families. As a general rule you can use your Georgia EBT card to buy any food items except for food that is hot when sold, or food that's sold to be eaten in the store, like restaurant food. In some locations restaurants could be authorized to accept the Georgia Peach Card from qualified disabled, elderly, or homeless people in exchange for low-cost meals.
What Can You Buy With Georgia Food Stamps
Breads and cereals
Bottled water
Fruits and vegetables
Meats, fish and poultry
Dairy products
Seeds and plants which produce food for the household to eat
Infant formula, cereals, juices
Baby food in boxes and jars
Energy drinks with a nutrition facts label
Pumpkins
What You Cannot Buy With Georgia Food Stamps
Baby diapers or baby wipes
Beer, wine or liquor
Cigarettes or tobacco
Nonfood items such as pet foods, soaps, paper products, household supplies
Vitamins and medicines
Food that will be eaten in the store
Hot foods
Grooming items or cosmetics
Energy drinks with a supplement facts label (FDA classified as supplements)
Generally live animals and birds
Your Georgia SNAP benefits also allow you to buy some junk foods and luxury items. The guidelines created by the United States Department of Agriculture (USDA) is outlined below.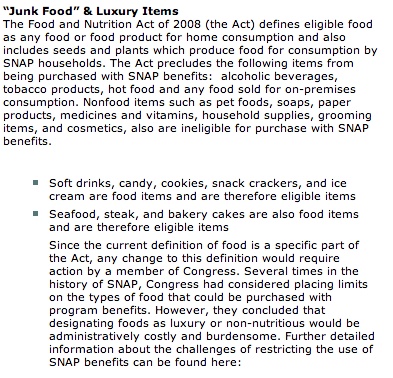 From the USDA guidelines above, you can purchase the following items using your EBT card.
Soft drinks
Candy
Cookies
Snack crackers
Ice cream
Seafood such as lobster and shellfish
Steaks
Bakery cakes
Below are some common questions about what you can purchase with your Georgia Peach Card.
Can you buy formula with food stamps?
You can use your Georgia SNAP Benefits to buy baby food. Items include infant formula, cereals, juices, and baby food in boxes and jars.
Can you buy dog food with food stamps?
Households cannot use their food stamps to purchase any nonfood items, which includes pet foods.
Can you buy vitamins with food stamps?
You can buy any edible food except hot foods prepared for eating immediately. You cannot buy non-food items such as alcohol, pet food, vitamins, or grooming products.
Can you buy coffee with food stamps?
You can buy coffee including instant coffee and iced coffee. The only kind of coffee you can't buy using your EBT card is hot coffee. EBT SNAP benefits do not allow the purchase of hot liquids.